Plasma Pen Treatment (anti-aging)
What is Plasma pen treatment?
Plasma Pen is the world's most advanced, non-invasive, skin lifting, skin tightening and rejuvenation device used to treat wrinkles, and sagging, dull skin.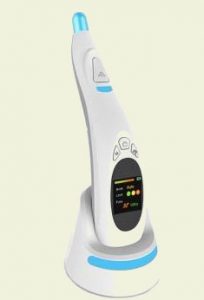 Commonly Targeted Areas:
Accordion lines – the lines that form outside of the mouth when you smile
Upper and lower eyelids – Bags and hoods
Crow's feet around eyes
Forehead lines
Jowl / jawline tightening
Marionette lines – The creases or folds that run vertically from the corners of the mouth down to the chin
Nasal labial folds – The folds that run from the sides of your nose down to the edge of your mouth
Necklines, turkey neck
Smoker's lip lines – those vertical wrinkles also known as lipstick lines around the mouth
What skin types may not be good candidates for Plasma Pen treatment?
⦁ Darker skin tones (African American, African, Latin, Native American, Indian, Middle Eastern, Asian ancestry and people of mixed ethnicities) may not good candidates for Plasma Pen.
⦁ Celebrity Skincare is committed to safe and effective treatments for all. When in doubt, we don't risk it! We do not provide Plasma Pen treatments on Fitzpatrick skin types 4-6:

What can I expect after Plasma Pen Treatment?

Redness, swelling and scabbing in the treated area
Average of 8 days downtime on the face and neck areas
Average of 10 to 14 days on the body, depending on the area being treated and the intensity of the treatment
Swelling usually begins the day following your treatment, and peaks around day 3
After day 3, swelling subsides and scabs form accompanied by some itching
Scabs normally begin to fall off around day 6 and 7 (for face and neck)
Please be aware that the days indicated are simply guidelines for average healing time. Healing time and results may be negatively compromised by not following the aftercare protocol: no drinking alcohol, no smoking and no picking/scrubbing. If your health is compromised in any way, this can also extend your healing time and negatively affect your results.
Frequently Asked Questions